E3Live Mint®
Possible Benefits:
Increase endurance and stamina
Lift and balance mood to reduce stress
Increase mental focus and concentration
Balance blood-sugar levels
Speed up recovery time
Restore overall biochemical balance (1)
Enjoy long-lasting energy boost (2)
Grow healthier skin, nails and hair
Truly enhance overall well-being
E3Live® Mint is 100% Aphanizomenon flos-aquae (AFA for short). E3Live® Mint is lightly flavored with organic mint and lightly sweetened with organic agave nectar. AFA is an all-organic wild-harvested aqua-botanical considered by renowned health authorities to be nature's most beneficial superfood. We've added a touch of mint to tingle your taste buds while you imbibe our beloved nutritional supplement.
Physiologically, E3Live® helps restore overall body/mind balance in numerous ways. Its field of action simultaneously includes the immune, endocrine, nervous, gastro-intestinal and cardio-vascular systems.
Nutritionally, E3Live® provides 64 easily absorbed vitamins, minerals and enzymes and has more biologically active chlorophyll than any known food. It is the most nutrient dense food known to mankind.
E3Live® is a gift of nature, a miracle food. We warmly invite you and your loved ones to experience certified organic E3Live® for yourself.
Usage:

for Frozen Liquid

Serving Size: 1 tablespoon. Most people begin at 1 teaspoon a day and work up. No two people are alike. Some people will eat E3Live® in more liberal quantities, even several ounces a day, whenever they need an added boost. Work your way up at your own pace. Trust your intuition. We suggest drinking a few ounces of pure water after each use.

For Maximum Results & Benefits: Once you've used the suggested starting amount for a couple of weeks, E3Live® recommends using roughly 1 bottle per week to receive maximum results.

Suggested Use: To protect freshness, keep frozen. When ready to consume, measure a defrosted portion of E3Live® into another container, enough for approximately a 7-day supply, and store in the coldest area of your refrigerator compartment for ongoing daily use. Place the remaining frozen portion, still in the original bottle, in your freezer compartment until you need to replenish your daily reserve by defrosting another 7-day supply. For fast defrost, place bottle in cool water outside of refrigerator for about 15 minutes. For slower defrost, place full bottle in refrigerator compartment for a few hours, then pour off 7-day supply into another container and place in refrigerator compartment. Store the remaining frozen portion (original bottle) in freezer compartment. Defrosting times will vary.

Important Note: In defrosted liquid state, E3Live® must be kept cold and refrigerated at all times to maintain its freshness. Shelf-life out of freezer in refrigerator is between 7 to 10 days.

If you are pregnant or nursing, consult your healthcare practitioner prior to use. Do not use if safety seal is broken.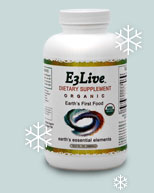 E3Live®
Ships frozen for optimal freshness

A special note about shipping E3Live®
To ensure E3Live® arrives in its freshest state, we mail in quantities of 4 or more — we've found a minimum of 4 bottles keep your E3Live® optimally cold during transit to your door.
To offset shipping costs, we offer a FREE bottle(s) with each offer as follows:

if you order 4, you get 1 free = the 5 pack
if you order 7, you get 1 free = the 8 pack
if you order 10, you get 2 free = the 12 pack
if you order 14, you get 2 free = the 16 pack
Frozen pack prices include the cost of 2-day shipping (discounted shipping for ordering online).
Please note: the shipping cost portion of the pack price
is non-refundable.
Product Research & Technical Data — Below you will find some additional research and research resources regarding E3Live®.

E3Live® Brochure — Energize your body. Balance your mood. Focus your mind. Learn more about the best food you can give your body: Aphanizomenon flos-aquae (AFA).

| | |
| --- | --- |
| Please Note | The Food and Drug Administration has not evaluated these statements. This product is not intended to diagnose, treat, cure or prevent any disease. |