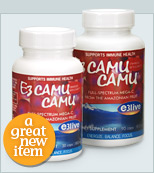 E3 Camu Camu
An Amazonian superfruit that promotes wide-ranging immune health benefits










Possible Benefits





strengthening the immune system
improving circulation
treating colds and infections
healthy red and white blood cell formation
anti-herpes
anti-depression
healthy gums, eyes and skin
healthy liver, lungs, lymphatic and nervous system
strengthening collagen, tendons and ligaments
maintaining clarity of mind
E3 Camu Camu™ — Camu Camu is an Amazonian superfruit that promotes wide-ranging immune health benefits. Based on studies and our own extensive personal use, we enthusiastically recommend this wild-grown botanical as an alternative to synthetic ascorbic acid, especially during flu season.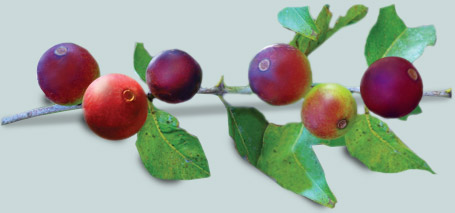 Full-Spectrum MEGA-C
—
from the Amazonian Superfruit

Camu Camu contains amino acids leucine, valine, phenylalanine and serine and has 30 to 60 times more naturally occurring Vitamin C than oranges.

It additionally has phytochemicals and a botanical spectrum of nutritional bioflavonoids to

feed your immune system and refresh your tissues

.

If we look only at the amount of synthetic Ascorbic acid, the amount of vitamin C which Camu Camu contains may appear lower but the health effects on the human body are unsurpassed.

Please note that our purely natural E3 Camu Camu enhanced with E3 AFA contains NO synthetic ascorbic acid.
As a superfruit berry that grows wild in the Amazon, Camu Camu's array of natural food factors and essential vitamins are more easily absorbed and utilized by the body, particularly compared with synthetic isolates which cannot compete with the genius of nature. That's why it's called Mega-C. For your full assurance, we literally stand behind the genius of nature! Several of us at E3Live® have been so taken with our own immune support experiences from Camu Camu that we chose to uniquely offer you our walk-the-talk unconditional guarantee when you buy from us. If you're not completely satisfied with the therapeutic results of E3 Camu Camu enhanced with E3 AFA™, we will refund your product purchase price, any time up to a year!
We have added 5% E3 AFA™ to E3 Camu Camu™ to provide you with synergistic nutritional benefits.
Camu Camu has been revered as a key folk medicine for centuries by people living in the Amazon. In Western circles, Camu Camu is said to provide nutritional antioxidant and anti-inflammatory support for infertility, herpes, gum disease, infections, connective tissue and even depression. All this long-standing lore is what's behind Camu Camu's renown as anutritive superfruit. We stay open-minded to the value of folk medicine that has been long accepted for its therapeutic benefits. Drug company labs make billions of dollars from synthesizing what's taken from original natural sources. We can use synthetic Vitamin C, or choose to take naturally occurring Vitamin C with its wide range of complementary bioflavonoids as found in the Amazonian superfruit, Camu Camu.
Vitamin C is a power-packed vitamin in its full-spectrum natural form. Take good care of yourself this season with E3 Camu Camu™ enhanced with E3 AFA™.
*Please Note: E3 Camu Camu™ is raw-living low-temperature dried. (The Camu Camu is dried below 115 degrees.) It is 100% Whole fruit: NO additives; NO fillers; and NO synthetic ascorbic acid added to increase our vitamin C levels. You can see the difference between our whole berry fruit powder, and other adulterated Camu Camu!
E3 Camu Camu
Here's one of our Camu Camu berries sliced in half to reveal the fresh pulp within




Usage:

for Vegetarian Capsules

Suggested Use: 1-2 capsules, 1-2 times daily. Store in a cool dry place

Important Note: Drink plenty of pure water and fluids. If you are pregnant or nursing, consult your healthcare practitioner prior to use. Do not use if safety seal is broken.
E3 Camu Camu — Hand-Picked!
All of our Camu Camu berries are fresh-picked by hand only when the ripe red color shows maximum vitamin C content




E3 Camu Camu — Wild-Harvested!
Camu Camu grows along the banks of the Amazon river and is wild-harvested by canoe at the peak of ripeness



Product Research & Technical Data — Below you will find some additional research and research resources regarding E3 Camu Camu™.

E3 Camu Camu™ Research
— The high Vitamin C content of Camu Camu is an instrumental factor in a surprising range of health-promoting effects including strengthening the immune system.

E3Live® Brochure
— Energize your body. Balance your mood. Focus your mind. Learn more about the best food you can give your body: Aphanizomenon flos-aquae (AFA).
| | |
| --- | --- |
| Please Note | The Food and Drug Administration has not evaluated these statements. This product is not intended to diagnose, treat, cure or prevent any disease. |